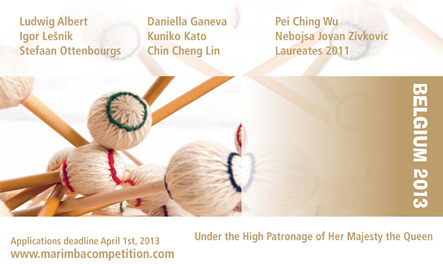 Under the High Patronage of Her Majesty Queen Paola.
The Universal Marimba Competition, located in the heart of Europe and acclaimed as one of the most prestigious in the World, gathers the marimba around the globe and foster cross cultural understanding. It has been dedicated with success to promote the popularization and development of the marimba art and culture, sparing no efforts in supporting leading artists and prize winners. This event is set as a two yearly annual music celebration continiously inviting for the festival top acts and brilliant artistry.The competition received from 2011 the High Patronage of Her Majesty the Queen, an honor for the first time presented to a marimba competition worldwide. The competition presents each edition as jury and performing festival artists a topflight of world leading artists, welcomed over ten years more then 500 candidates for marimba and established for most of the winning laureates an endorsing contract and embarking career. It is with proud to witness their artistic growth, international recognition and presence as most high classed performers of the new generation. Aside offered cash and material prizes such as concert marimbas for a total amount over 50.000 Euro, the prizes also include CD recordings in the beautiful wooden Academic Hall and an international festival concert tour making this competition unique. It's without doubt that this ground-breaking event keeps marking internationally a brand new milestone of the marimba, providing an inspirational stage for top performers and candidates and presenting all visitors a unique music experience. You can see impressions, results and pictures of passed editions.

The Competition 2013 welcomes candidates from:
USA, Finland, China, Poland, France, Netherlands, Hong-Kong, Croatia, UK, S-Korea, Austraila, S-Africa, Bulgaria, Japan, Italy, Sweden, Taiwan, Russia, Romania, Austria, Mexico & Ukraine.
We hope you will enjoy your visit on this website and are looking forward to welcome you in Belgium from 18 till 27 July 2013.