RESULTS EDITION 2007
The third edition of the Universal marimba competition, Belgium 2007 was held from 16 till 24 August 2007 in the beautiful sounding wooden 'academiezaal' in the town Sint-Truiden, near Brussels. (A festival was held in conjunction with the competition showcasing clinics and concerts by the jury members, finalists 2004 & extra guest-artists in several historical venues).

Congratulations to all finalists and candidates!!! Your performances were fascinating and inspiring to us all. Many thanks to the organisations and all volunteers, to the sponsors: Yamaha, Adams, Pustjens Percussion Products, Marimba One, Dynasty, Innovative Percussion, Beurskens Music edition, to the P.A.S, to the Ministry of Culture, Province Limburg, city Sint-Truiden , the P.A.S. and all appearing companies for their tremendous support, to the composers of the set pieces Jan Van Landeghem & Ludwig Albert, to Fred Brouwers , to the Percussion Orchestra biNg bang and their conductor Igor Lesnik for their superb accompaniment of the semi final and to all appearing festival artists: Keiko Abe & Marimba ensemble Japan (JP), David Friedman & his trio Tambour (DE), duo Malleusincus (SE), Eriko Daimo (J), Noriko Tsukagoshi (JP), Lin Chin Cheng (TW/BE), Axoum duo (PL/FR), Efrain Abenamar Paniagua Guerrero (MX), Ameneyro Jazz ensemble (MX), Unicach marimba ensemble (MX), Leo Ouderits & Jean-Marie Van Broeckhoven (BE), and finally to all jurors for their intensive work and performed clinics. It was wonderful to share all together the joy of marimba music during one week. Ludwig Albert - Artistic Director
For marimba solo 3 final laureate prizes were given to: 1st Prize to Mi Youne Kim ( Korea), 2nd Prize to Iwami Reina (Japan) & 3rd Prize to Hiromi Shigeno (Japan). The extra public prize and Sabam Prize ( best performance of set piece Nimbostratus by L.Albert) were awarded to 1st prize winner Mi Youne Kim.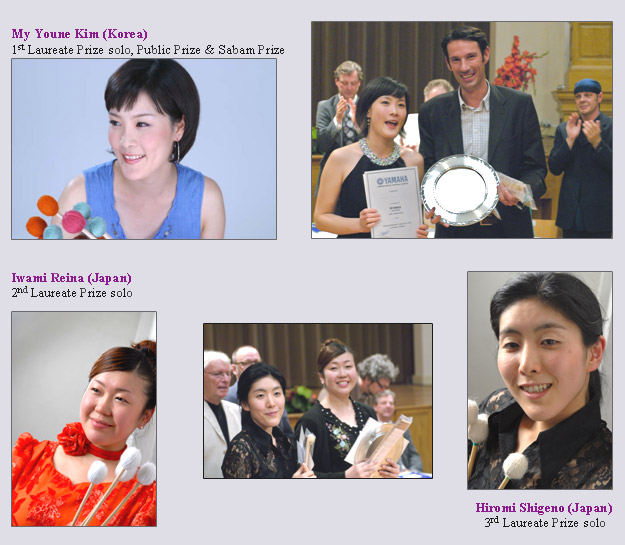 For marimba duo the 1st prize , public prize and Sabam prize ( best performance of the set piece the Kundalini of the playing Koala's) were given to Emiko Uchiyama & Petrov Vladimir. The 2nd Prize was given to Rina & Mieko Kano.
The extra 'Keiko Abe Prize' is awarded to both duo finalists.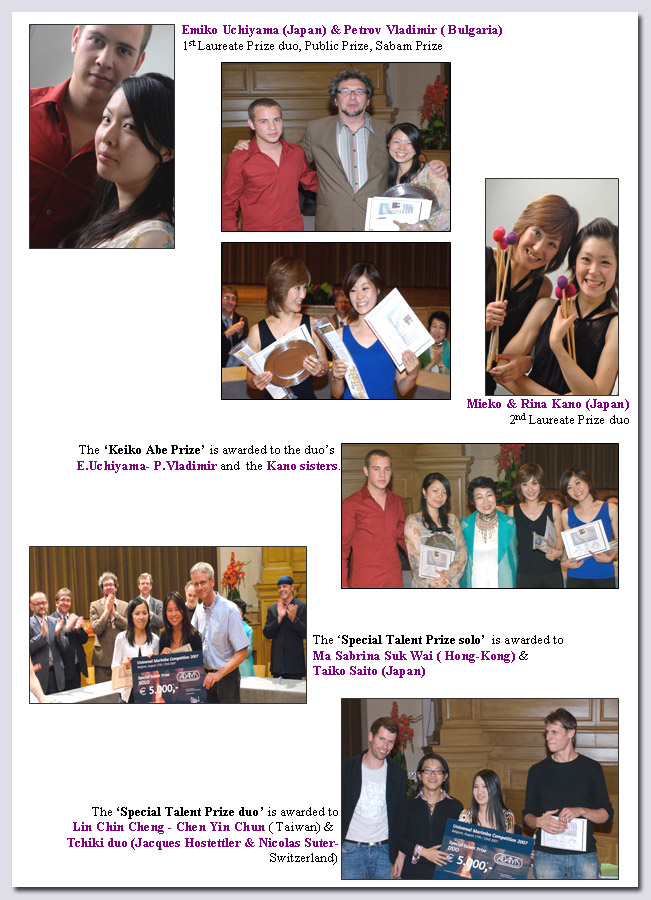 The 'Originality Prize' ( publishing of best new composition) is awarded to the composers:
-Lin Chin Cheng for his solo composition 'Back to the Time' performed in the final round by Mi Youne Kim
-Hirotake Kitaka for the composition W=Mirror for marimba duo performed by Mieko & Rina Kano.

The event's artistic director and founder of the competition Ludwig Albert assembled the other jurors: Anders Loguin (SE), Keiko Abe (J), David Friedman (DE-USA), Igor Lesnik (HR), Leo Ouderits (BE), Frédéric Macarez (FR) & Klaus Tresselt (DE). Extra jury members and Belgian representatives for the final round were: Jan Van Landeghem (BE composers society SABAM), Liesbet Vereertbrugghen (BE-National Radio & Television Network), Alain Crains ( BE-higher education of music).

The award of honour 2007 was given to following artists for their tremendous contribution in the marimba & percussion field: Anders Loguin, David Friedman & Frédéric Macarez.